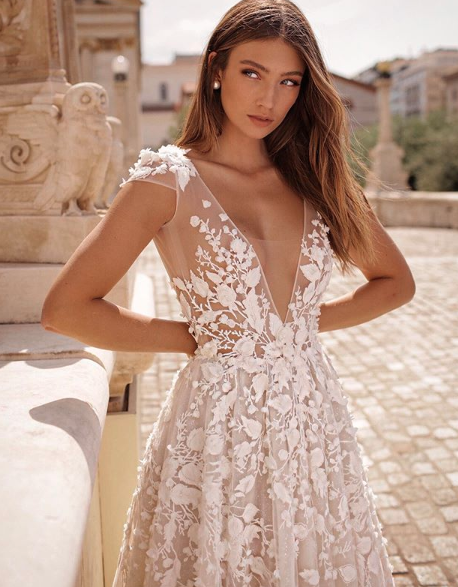 Wedding fashion has made some significant changes over the years, but this most recent innovation is especially daring: the naked wedding dress.
This design involves lots of sheer material that shows off the bride's skin with sections of lace to strategically cover the most sensitive areas. If this sounds intimidating, never fear. These dresses come in a wide variety of styles, some of which are more modest than you might think. Some dresses primarily reveal the midriff or back, which some women may be more comfortable with. Other dresses simply use a skin-tone material to give the illusion of nudity without actually revealing much skin at all. Both of these are great options for brides who want to try the trend without being too revealing.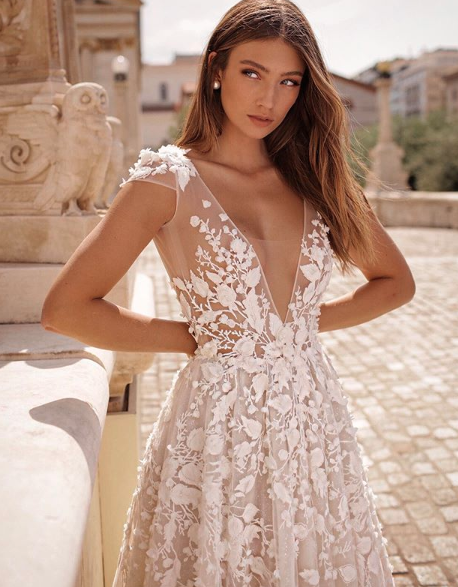 The Naked Wedding Dress: Bolder Than Bold
If you are interested in a more adventurous and truly 'naked' dress, there are plenty of options in that department as well. It's called a 'naked' style for good reason. Some gowns feature the legs, others the chest, and others reveal skin all over. This is not your mother's wedding dress, it is a design all its own, with some truly unique results. From fascinating twists on the classic bridal gown to the experimental Pronovias jumpsuit, the naked wedding dress trend has it all.
But why are brides so drawn to this new style? First, the naked dress almost always involves a lot of lace and sheer material, which are both hugely popular these days. These fabrics give off a sense of delicacy that can be quite beautiful, but many women are looking to leave behind the daintiness and frailty of these fabrics. By using lace to show off the bride's figure, it becomes a powerful, statement fabric. The Grace Loves Lace bridal boutique has put a new spin on these classic materials with a wide variety of nude dresses.
Fuck You!
Some say these dresses leave little to the imagination, that they are one of the trends we will all look back on and cringe one day, but today's brides say otherwise. Many women find these revealing dresses to be empowering, a sign of how they have embraced their sexuality despite how our media often demonizes feminine desire. Other brides simply love this fresh take on the lace trend, which was starting to get a bit tired and overdone until this new, popular style arrived on the scene.
Not a fan of sheer fabrics and lacy trimmings? That's not a problem. Several clever brides have found naked wedding dresses that are tantalizingly revealing using plain, traditional fabrics.
Time Will Tell
These days, when everyone has an opinion and with the help of social media, the ability to share it with the world, it's important to remember that a wedding is first and foremost about the joining of two people. Even if the bride was actually naked as she walked down the aisle, it would be no one else's business to judge. Time will tell if the nude wedding gown will become a classic style or a disappear after a time, no more than a fleeting trend, but either way, it is making many women happy in this moment, and that is enough.