On your wedding day, do you really want to be sitting in front of a mirror moments before you walk down the aisle, struggling to get your winged eyeliner perfectly even, or do you want to hire professionals so you can sit back, relax, and maybe have a mimosa?
I'd definitely prefer the second option.
Hiring professionals isn't an option for everyone, but if it's at all possible, we highly recommend it. And before you sigh and say you couldn't possibly afford it, take a moment to check out our budgeting tips below. Getting your hair and makeup done can be incredibly fun. But how do you find the best wedding hairstylist and makeup artist? And once you find them, how do you ensure that they create precisely the look that you're going for? We'll answer these questions and more in this article.
Where to Start: Gather Reference Photos
Before you start getting price quotes from local stylists or looking up the price of a Glam Squad, you need to find a few styles that you love. Obviously Pinterest is an excellent resource when looking for wedding hair and makeup ideas, plus you're able to save your faves to a board to show your stylists later on. The trouble is, the endless photos on Pinterest can pull you in too many directions. When you're first browsing, feel free to pin anything that strikes your fancy, but be prepared to go back and pare things down later.
We recommend choosing 2-3 looks that are distinct from one another to show your stylists. You can pin as many pictures as you want (actually, it's helpful to have a few photos depicting slightly different versions or angles of each look), but try to keep it to just 2 or 3 general hairstyles and makeup styles. If you start flirting with more than 3, you could descend into indecision and end up unhappy with all your looks.
As you collect your reference photos, keep one thing in mind: these artists are creative and professional and talented, but they cannot turn you into a completely different person. You won't look exactly like any of your reference photos on your wedding day, but that's a good thing. You'll look like you, which is better. You're the person your partner wants to marry, after all.
Be Sure to Define Your Budget
The next step to finding the perfect professional makeup artist and hairstylist for wedding purposes is to set your budget. Professional services can be quite expensive depending on where you're located. For instance, the downtown Washington D.C. area is typically much more expensive than, say, a rural area in Washington state. Regardless of where you live, whether in the West Coast Washington or the East Coast Washington or somewhere in between, it's important to make sure you are staying within your means when hiring your wedding stylist team.
One way to define your hair and makeup budget is to plan on spending about 5% of your overall wedding budget. That way, whether you're planning on spending $1,000 or $50,000, you'll have enough money left over for things like catering, music, and photography.
If you've set your wedding budget and money is a little tight, consider choosing to hire either a makeup artist or a hairstylist instead of both. You can also save a bit of cash by using friends as your not-so-professional hair and makeup artists.
Explore Your Options
Once you know what you hope to look like and what you want to spend, it's finally time to start exploring your options. Below, we've outlined some of the most popular options in bridal beauty professionals. Once you decide whether you'd prefer to book an independent professional, a salon team, or use a beauty app, start looking for an artist who has experience doing looks like the one you're interested in. Check to see if they can successfully pull off the natural look, a big bold eye, or the ultimate bridal up-do.
Local Professionals
If you want to go old school, you can find wedding hair stylists and wedding makeup stylists by simply doing a Google search for these professionals in your area. For instance, a quick search for "bridal hair in Washington D.C." turns up 40 results, from independent Washington D.C. stylists to salons like the Andre Chreky Salon and Spa.
If you decide to find your bridal beauty team through a search for local professionals, you will then have to decide if you want to hire stylists who work on their own and are willing to come to your home (or hotel or wherever you'll be on the morning of your wedding) or if you'd rather go to a salon on your big day and have the professionals work on you there.
There are pros and cons to each approach. Having your stylist come to you makes the whole day easier…unless they're late. When you go to a salon, you can be certain you'll start on time because the process will start when you arrive. If you're determined to be comfortable in your home on the morning of your wedding day, you may be able to find some salons, like the Andre Chreky Spa and Salon, that will send their stylists to you. But then again, in a salon, you have to use their stylists for both makeup and hair; you can't mix and match from different salons or independent artists.
Beauty Apps
In today's day and age, there's nothing you can't accomplish with the right app. That includes bridal hair and makeup. And there are a variety of apps to choose from. One of the most popular is definitely Glamsquad. Available in many major cities in the U.S., Glamsquad offers services specifically for weddings, and they make sure you get the same stylists on your actual wedding day that you had at your trial (which we'll talk more about in a moment).
You might be thinking "What could possibly be the downside??" The answer: the price. For a trial and hair and makeup on the big day, it will cost you $500. Many of these on-demand beauty apps have similarly high prices, but each app offers a unique experience.
For instance, the Swivel beauty app is designed specifically for Black women, so you can be sure your stylist knows exactly how to work with your hair. Or, if you're looking to get pampered on your big day, you can try out the Soothe app and get a massage from the comfort of your home. Still other apps, like Priv, offer makeup, hair, and nail services for weddings.
Set Up a Bridal Hair and Makeup Trial
One drawback to hiring a hair professional and makeup artist for your wedding day is that they have never worked with your bone structure and hair type before, so it's absolutely vital that you schedule a trial to test out their hair services and makeup skills. If you hate how they work, then you know it's time to schedule another trial with a different salon or beauty service. But if you love it, then you have an amazing sneak peek of how gorgeous you'll be on your big day and you'll feel confident that these people can work with your hair and features.
But what does a hair and makeup trial involve exactly? Typically, here's what will happen. If you're testing out a salon, you will go to their location, or if you're trying out a team of independent bridal style professionals, then they will come to your home. They will set up all their equipment and ask to see your reference photos. You'll likely chat a little bit about what styles will make you feel most bridal and beautiful, and then they'll get started.
Throughout the trial, it's important to remember that this is all about making you feel comfortable and prepared for your wedding day. If you notice the artist making makeup or hair styling wedding decisions that you don't like, it's important to speak up and let them know. They may have simply misunderstood your vision, but it's also possible they simply aren't skilled enough to do what you're wanting. Just because they've done this for other weddings, that doesn't automatically mean they're the right choice for yours.
Stick With What You Really Want
Sometimes, brides will have others present for their hair and makeup trial, and that's completely fine, just make sure you don't find yourself getting swept up in what those other people want for your wedding hair and makeup. Others' opinions can be valuable, but you don't want to lose sight of your wedding vision in favor of someone else's preferences. It helps if you have a firm idea of what you want ahead of time, but even then, you might find yourself departing from your original ideas because of comments made by others. You may want to periodically review your reference photos to remind yourself of what look you're going for.
If there are certain people in your life who tend to be very outspoken in ways that can actually be hurtful, make sure they are not present for your trial or when you are getting ready on your big day. When you get married, you want to feel beautiful, and that can be difficult if there are people critiquing a bridal beauty look that you actually really liked.
Do You Tip for Wedding Hair and Makeup?
Generally, yes. And it's considered polite to tip your whole team for both the trial and the actual day. Even if you don't like the look at the trial and won't be hiring them for your actual wedding day, a 15-20% tip is typically expected, just like at a regular salon appointment.
To help keep things running smoothly on the day of and keep your mind off of money and focused on your lovely partner and enjoying your big day, we suggest assigning someone close to you to pay all the vendors, from stylists to DJs. Simply give them envelops with the correct amount inside, and have them hand them out as needed.
Tips for Staying On Schedule on Your Big Day
Okay, you've done your research, found the perfect bridal look and the perfect makeup artist and hair professional to make it happen, and now it's time to walk down the aisle. How should you schedule your time that morning to make sure you look your best on time? It really all depends on who all is signed up for services.
If you are the only one getting your hair and makeup done, and your bridal party is all doing their own, then you have some flexibility. You can wake up late, set aside an hour and a half to two hours for your bridal styling, and then make your way over to the ceremony. But if the whole bridal party is receiving services, you need to be careful to schedule your time precisely.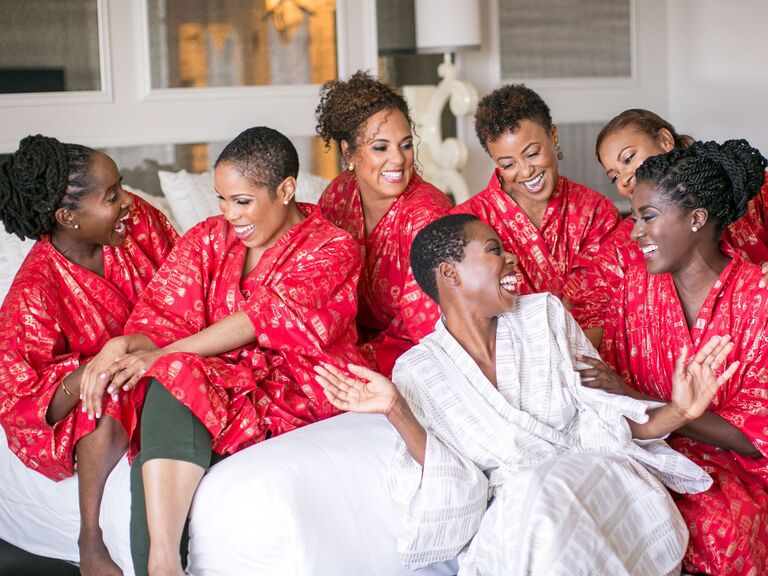 Weddings are chaotic and little things are bound to go wrong, so we highly recommend building some time into your schedule for these minor mishaps. Even the best-laid plans of mice and men often go awry. It doesn't mean you planned poorly, it just means that people are human and things happen. You should check with your stylists, but generally speaking, you can expect services to take approximately 30-45 minutes for each bridesmaid and mother/mother-in-law of the bride. This means if you have a large party, you'll want to get started early in the morning. If you're using a salon, you'll want to double-check a few weeks ahead of time to make sure they will have enough stylists on hand to get everyone done in plenty of time.
Final Words of Advice
So now you know just about everything there is to know about looking absolutely fabulous for your wedding. But just to make sure, here are some last few pieces of advice to help everything go smoothly:
Get started with the research and budgeting process early. The sooner you start, the more prepared you'll be, which is good. Weddings have a habit of sneaking up on you.
If you accidentally fall in love with stylists who are outside of your budget, it is still possible to use them. You'll just have to cut down your budget somewhere else. But make sure you actually cut back somewhere. If you don't, you'll end up way over-budget and possibly even in debt, which is not exactly the best way to start a marriage.
Bring all of your bridal accessories to the trial. If you want flowers in your hair, a veil, or something else incorporated into your look, it's important that your stylists know about it and use it when they're practicing. That way you know exactly how you'll look for the actual wedding ahead of time.
At the trial, ask your stylists if there's anything you should do ahead of time for your actual wedding. Is there a skincare routine they want you to start? Should you shower the night before or the morning of? Soak up their words of wisdom for prep, and write it down so you don't forget.