If you've been paying attention to the latest wedding fashion trends, you know that lace is on its way out and its extravagant cousin, embroidery, is in.
Embroidered wedding gowns are exquisitely detailed and come in endless varieties, from floral boho dresses perfect for a spring wedding, to subtle golden embroidery that makes any bride look like a queen. Some brides are even opting for embroidered wedding dresses with a pop of color in the embroidery. If you want to look utterly stunning on your big day, we highly recommend any of these lovely 17 embroidered wedding dresses.
1. Zazu Mermaid Embroidered Wedding Gowns with Tulle Train by Hayley Paige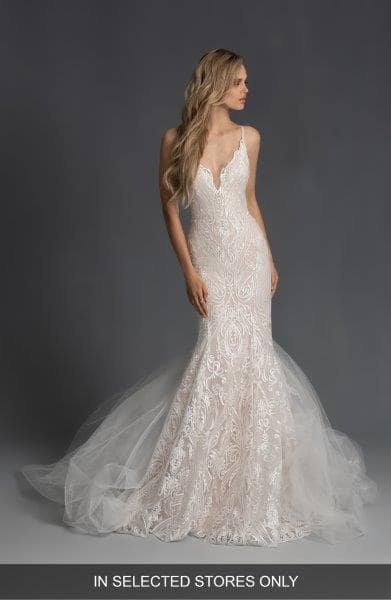 If you want it all, embroidery, tulle, a plunging neckline, then this Hayley Paige design is absolutely the wedding dress for you. With a classy hint of shimmer in the embroidery, this dress can't help but make an elegant statement. Not a fan of the train? Not a problem, it also comes without the train.
2. Tris Wedding Gown by Watters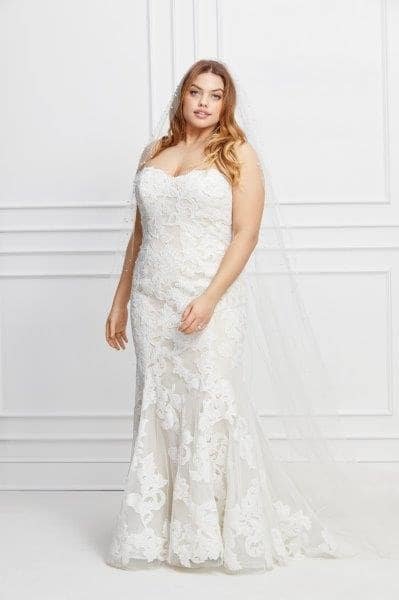 Looking for something more classic? We absolutely recommend the Tris embroidered wedding dress by Watters. With a sweetheart neckline and fit and flare cut, you couldn't be more classically bridal. Plus, it comes in several amazing shades including nude, oyster, ivory, and blush.
3. Vivien 3D Embroidered Tulle Mermaid Wedding Dress by Lazaro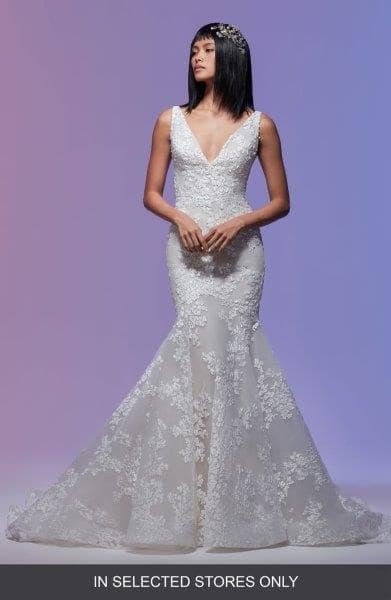 Mermaid cut gowns are always a great way for any bride to show off her figure, and you'll look extra stunning with this Lazaro original 3D floral embroidery. The delicate flowers truly stand out, as if they simply grew out of your gown.
4. Floral Embroidered Wedding Dress by Marchesa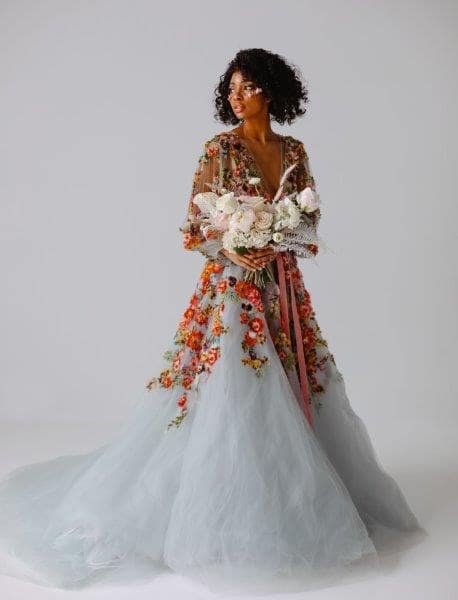 If you're not married to the idea of a pure white wedding dress, may we suggest this incredible dress by Marchesa? It is a bold step away from the traditional bridal look, but it is still sure to wow your guests and your soon-to-be spouse.
5. Gypsy Rose Embroidered Wedding Dress and Cape by Claire Pettibone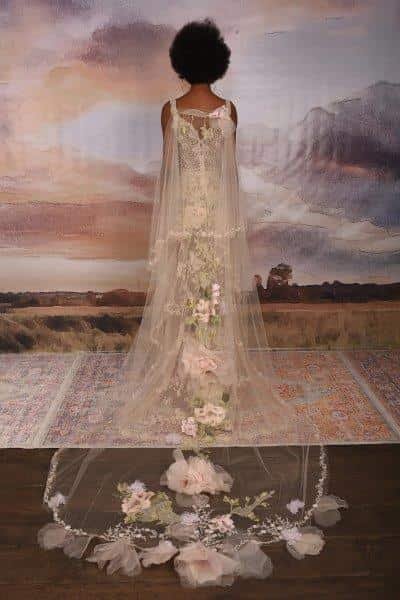 Looking for a slightly less intense pop of color, but still want a dress that goes above and beyond your typical bridal gown? This is absolutely the dress for you. The floral embroidery on both the actual gown and the fantastic cape are the perfect choice for a boho spring wedding.
6. Embroidered Tulle Ballgown by Lazaro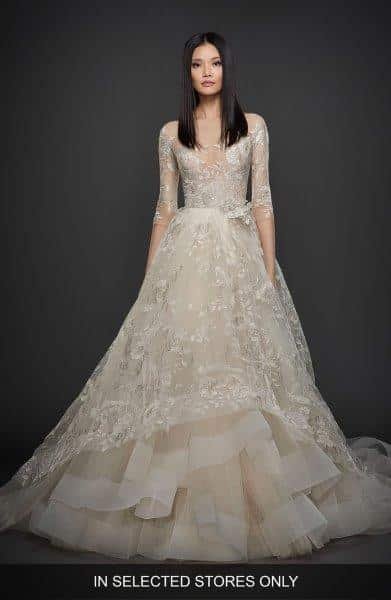 Many women only feel truly bridal if they're wearing a ballgown so large it makes them feel like a cupcake. If you've been looking for one of the embroidered wedding dresses that fits that bill, then behold, your search is over. This Lazaro gown is large and in charge.
7. Look 11 by Zuhair Murad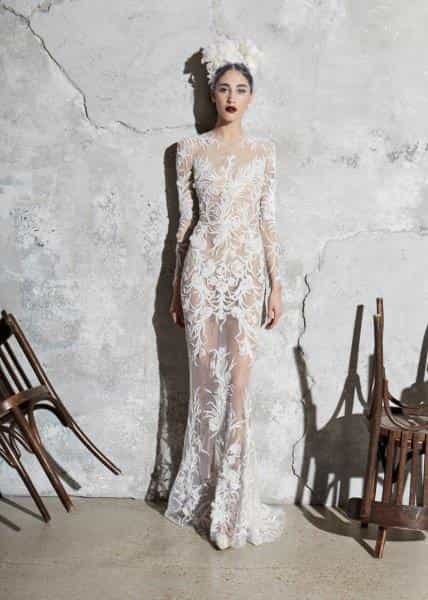 If you're looking to combine some of the latest wedding dress trends, this gown from Zuhair Murad's Spring 2020 collection is exactly what the doctor ordered. The new trend of "naked" wedding dresses is on the rise, and this gown uses embroidery to make you look tantalizingly gorgeous on your big day.
8. Florence Embroidered Wedding Dress by Claire Pettibone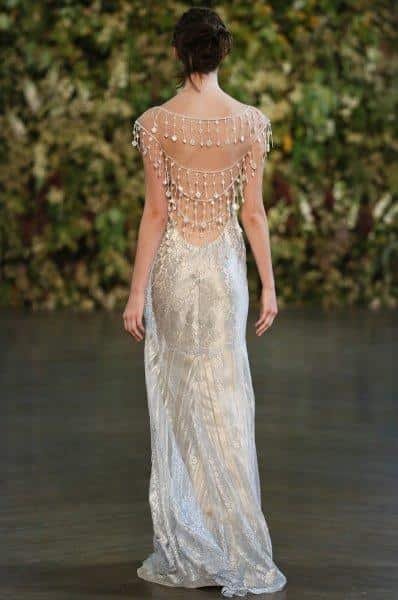 Some brides want to look modern, and some brides want to look as though they stepped directly out of a Renaissance painting. If you are the second, then this is one of the best embroidered wedding dresses you could imagine. Claire Pettibone uses delicate beading and metallic embroidery to bring you back in time- in style.
9. Corella Embroidered Wedding Gown by Willowby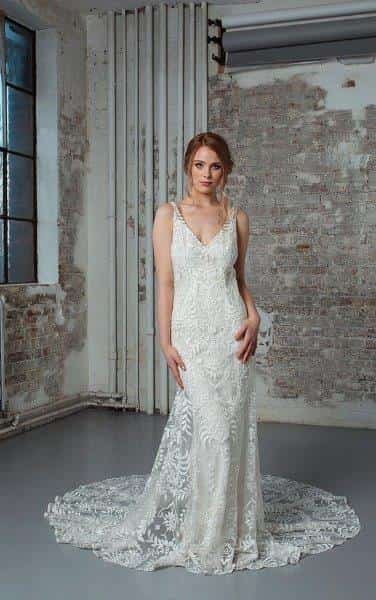 Speaking of going back in time, this embroidered wedding dress by Willowby is sure to bring you back to the 20s. That delicate silhouette and extravagant embroidery are perfect for making those Gatsby vibes more bridal.
10. Hemmingway Embroidered Crewneck Wedding Dress by Hayley Paige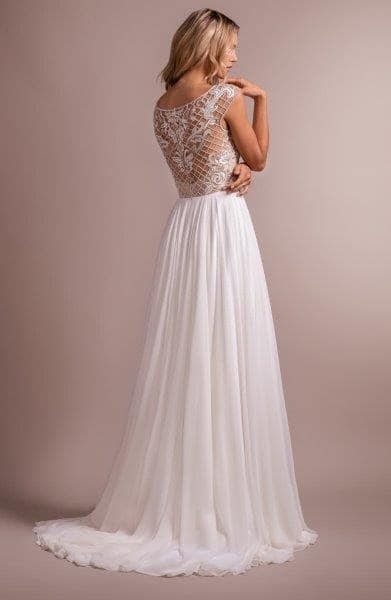 If you're on the search for one of those embroidered wedding dresses that combine the delicacy of embroidery with the simplicity of pure white bridal perfection, this Hayley Paige creation is for you. With an intricate bodice and understated skirt, it is the balance between detail and simplicity.
11. Ballgown with Embroidered Lace Appliques by Morilee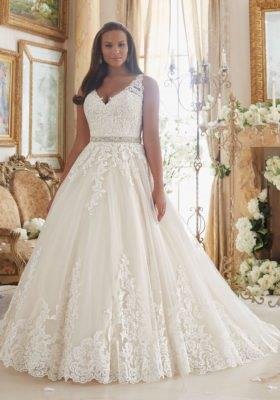 If you want your big day to be one that people email each other about for years to come, you need a stunning dress. There are countless embroidered wedding dresses out there, but few will make you look quite as regal as this one.
12. Juno Embroidered Wedding Dress by W-Too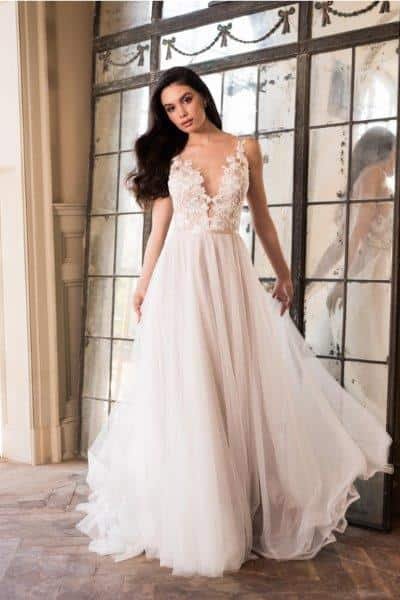 Your wedding day and your wedding dress should reflect you and your personality. This dress is ideal for women who are both bold and classy, sexy and refined. Not everyone could pull it off, but for those who can, they are sure to be known for their killer style.
13. Embroidered Chiffon Wedding Dress by Ramona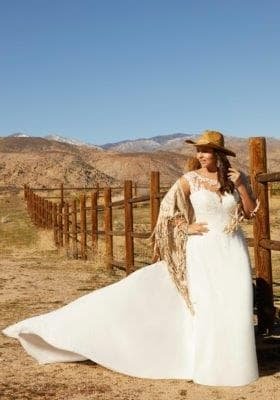 Going for more of a rustic look? Embroidered wedding dresses are the ideal solution, and this white plus-size gown by Ramona is the perfect dress for a country-style wedding.
14. Persephone by Morilee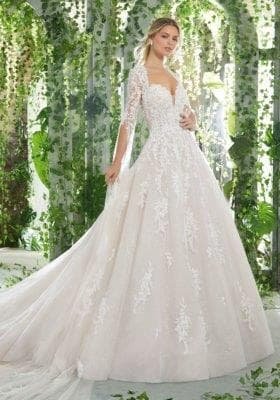 Camelot sleeves. Crystal beading. Floral embroidered appliques. This dress is perfect for anyone who wants to look like an email advertisement for the most romantic wedding ever.
15. Embroidered Lace Ballgown by DaVinci Bridal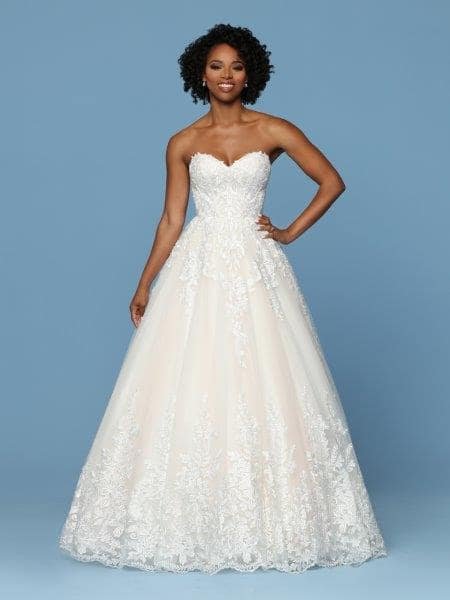 If you want to be a bridal beauty straight from a fairy tale, there's no need to search any longer for the perfect dress. This floral gown from the DaVinci Bridal collection is one of the most amazing embroidered wedding dresses we've ever seen.
16. Off-the-Shoulder Wedding Dress by Willowby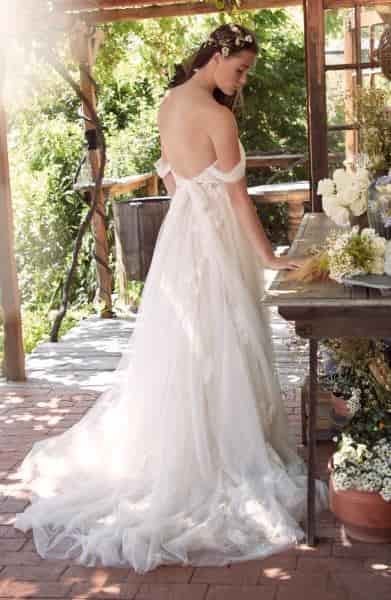 Some people aren't sure they'll feel truly bridal if they go for a flowery boho style dress, but this is one of the few embroidered wedding dresses that will definitely convince you that boho and bridal can totally go together.
17. Shangri-La Wedding Gown by Claire Pettibone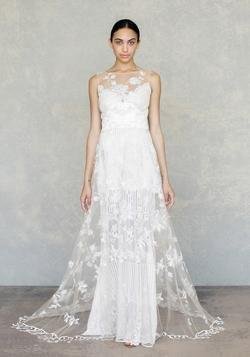 With floral embroidery layered over delicate striped material, this bridal gown shows everyone that it's absolutely possible to mix patterns and make it work.